Make yourself some yummy pancakes this Pancake Day!
This year Shrove Tuesday, also known as "Pancake Day" or "Mardi Gras", falls on 16th February. On this day, it is customary to eat pancakes as a meal. Try our favourite pancake recipe this Pancake Day 2021. Super quick, in 3 easy steps.
Ingredients

• 200g plain flour
• 1 tsp baking powder
• ½ tsp salt
• 2 Tbsp sugar
• 1 egg, at room temperature
• 2 Tbsp butter, melted
• 250ml milk, at room temperature
Optional ingredients

• ½ tsp ground cinnamon
• 1 tsp vanilla extract
---
• Preparation time: 10 mins
• Cooking time: 15 mins
• Total time: 25 mins
• Yields: 8 pancakes
• Serves: 2 hungry people
---
Directions
Step 1
Dry ingredients: in a large bowl, sift together the flour, baking powder, salt, sugar, and cinnamon if using.
Wet ingredients: in a separate bowl, lightly beat an egg, then combine with the melted butter and the milk, and the vanilla extract if using. Whisk lightly.
Step 2
Make a well in the centre of the dry mix and pour in the wet mixture; mix until smooth, but do not overwork the batter.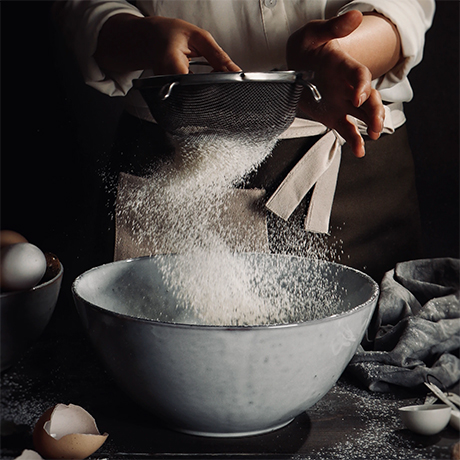 SECRET TIP
Let the batter rest while you heat your pan up. This will make your pancakes nice and fluffy.
Step 3
Heat a lightly oiled griddle or frying pan over medium-high heat. If you use a non-stick pan, you will not need to grease it.
Pour or scoop the batter onto the pan, using a couple of tablespoons for each pancake, making sure they don't spread out to the outside. Wait until the top of the pancakes begins to bubble, then turn them over and cook until both sides are golden brown and fluffy. Serve hot.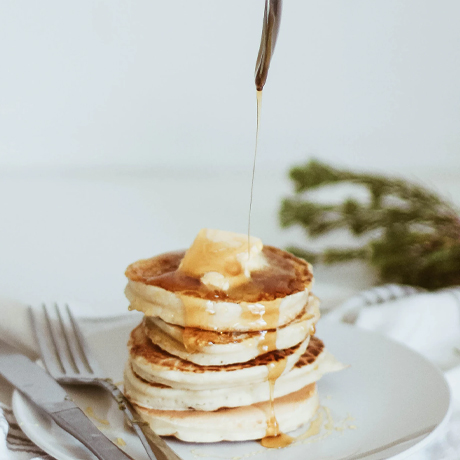 Serving suggestions
Top the pancakes with your choice of maple syrup & butter, or honey & fresh blueberries or strawberries, or banana slices & Nutella for truly decadent pancakes. Yum!
Let us know if you will make pancakes for Pancake Day and if you follow our recipe, tell us how they turn out!