Stambourne Newsletter
Published and distributed by Stambourne Parish Council No.
246

AUGUST / SEPTEMBER 2018
PARISH COUNCIL MEETING
The latest meeting of the Parish Council took place on Thursday 19 July 2018 at 7.30pm in the village hall.
Pavilion The toilet refurbishment is well underway. The new disabled toilet has been installed with additional baby-changing facilities. The next stage will be to remove and replace the original toilets and it is anticipated this will be completed by end July. This has only been possible due to a donation from the village fete 2016 and Community Initiative Funding from Essex County Council.
Playing Field Some parish councilors have been approached about taking dogs onto the playing field. Children in particular are at risk from toxocariasis, an infection caused by parasites present in dog faeces and for this reason no dogs are permitted on the playing field. A quote has been received to repair the cordoned off climbing frame and this will be back in use as soon as possible.
The next meeting will take place on Wednesday 19 September 2018 at 7.30pm in the village hall.
Full minutes are available on the website at
www.stambourne.org
Debbie Hilliard Parish Clerk Email:
debbiehilliard614@gmail.com
Tel: 01440 785629
SILVER SUNDAY – 7
th
OCTOBER 2018
Would you like to get involved in Silver Sunday? You probably know about Silver Sunday but just in case you've not heard about it before, it's a national campaign to combat loneliness and social isolation whereby individuals, organisations and groups offer something for free on this date. The idea being that Sunday can be a very lonely day for people who live on their own.
Braintree District Council is looking for ways to be involved and wonder if it was something that you or perhaps your organisation would like to get involved in too? There is a website
www.silversunday.org.uk
where you can advertise your event and find out what's taking place. If you're not able to offer something that day – events can be on any day near to that date.
Examples of events across the UK include:
Tea/Coffee and chat Guided Walks Guided Tour of a public building Drawing/Art Class Come and sing with a choir session Friends against Scams drop in advice Walking football taster session Square dance
If you either or a tour? The opportunities are endless but you probably know your community best and what they may like to do.
would like to get involved you just decide what you'd like to do. It could be just a free cup of tea for someone or perhaps a demonstration, talk
An information pack and answers to any other queries are available from:
kryshia.fuller@braintree.gov.uk

ST. PETER & ST. THOMAS BECKET PARISH CHURCH
The Parochial Church Council are pleased to announce that after several interviews & meetings, Reverend Liz Paxton has been offered the post of Rector of the Benefice of the Hedinghams and Upper Colne. The formal offer letter written by the Bishop of Colchester has been accepted by Liz. Many congratulations to Liz and now we can start to look forward to a new and exciting chapter in the life of our benefice. Liz's licensing, which will be conducted by the Bishop of Colchester will be held on Monday 3rd September @ 7.30pm.
SERVICES AT STAMBOURNE FOR THE NEXT TWO MONTHS:


5
th
. August
9:30 am
Morning Prayer

| | | |
| --- | --- | --- |
| 12 | 9:30 am | Holy Communion |




| | | | | |
| --- | --- | --- | --- | --- |
| 19 | No service at Stambourne - Please see notice board for other services in the Benefice | 26 | 9:30 am | Morning Prayer |


| | | |
| --- | --- | --- |
| 2 | 9:30 am | Morning Prayer |




| | | | |
| --- | --- | --- | --- |
| 9 | 9:30 am | Holy Communion | Rev. Liz Paxton |


| | | | | |
| --- | --- | --- | --- | --- |
| 16 | No service at Stambourne - Please see notice board for other services in the Benefice | 23 | 9:30 am | HARVEST FESTIVAL |




| | | | |
| --- | --- | --- | --- |
| 30 | 11:00 am | Benefice Service – Great Yeldham | Rev. Liz Paxton |


Val Kerrison
Churchwarden Email:
valeriekerrison@outlook.com
Tel: 01440 785752 or 07879 816362
STAMBOURNE CONGREGATIONAL CHURCH
NEWS from the Chapel
I am reminded at this times when rain would be welcomed by most of us that we all need water to survive. When the Israelites were journeying through the desert God told Moses to strike a rock and flowing water ran out of the rock. And most recently on television there was a programme about how that could happen - after all they needed water for thousands of people, so a dribble of water would never have satisfied, it had to be a torrent - and now they have found a place in that same desert where water is stored in porous rocks covered by a hard crust that if you hit it hard water will flow out! It has taken mankind 5000 years to find out how to do this!!
And that is so true of much of the Bible. Even the beginning seems to be proven by scientific fact - all creation happened in the order the Bible says - how did the authors some 3000 years ago know that? But getting back to water - there is a lovely hymn based on a Psalm - as the deer pants for the water, so my soul longs after You (that is God!). Just as we get thirsty for water so our souls long after something bigger, greater than ourselves. We long to know the
answers to some of the BIG questions of life. Why are we here? What purpose does our life have? Isn't there more to life than just work and sleep, and pleasure? The book of Ecclesiastes in the Bible is based around this whole question. Solomon - the wisest King ever - asks the question and comes to the conclusion that all of life is just a waste of time, just pointless, just the same old thing day after day, week after week. And he thirsts after something more. Something greater than the humdrum of everyday living. If you feel the same then come and ask us at Chapel. Our Alpha courses give us the opportunity to explore these questions, and the autumn course of "Freedom in Christ" provide the opportunity to explore in more depth what it means to live with "living water", the water that God provides to answer some of the big questions.
Contact me or one of the deacons at Chapel to find out more. In Christian Love, Adrian Burr
Tel: 01440 730211 or 07983 656166
EVENTS AT THE CHAPEL


Tuesday 14

th

. August 10 am – 12 noon




MS Trust -

Craft and Coffee Morning Come and make cards, enjoy a few puzzles and Jenga on the lawn!

www.mstrust.or.uk




Saturday 15

th

. September 10 am – 4 pm



Heritage Open Day -
Family History Searches and see the history of your local Chapel
www.heritageopendays.org.uk
Sunday 23
rd
. September 10:45 am

Harvest Service -
give thanks for the harvest received and the harvests to come

Friday 28
th
. September 10 am – 3 pm

Macmillan's BIG Coffee Morning -
Come and enjoy a cuppa, a chat and CAKES galore! Raising money for Macmillan's Cancer Care Nurses.
https://coffee.macmillan.org.uk/Home.aspx
REGULAR EVENTS AT THE CHAPEL
Sundays: Tuesdays:
Wednesday:
Worship Service -
10:45 am Followed by coffee and fourth Sundays by lunch together
Coffee Morning
– 10 am - 12 noon Come and chat and read the papers and put the world to rights!
Band Practice
A time of worship and prayer as we learn new songs and practice old and familiar ones. Open to all!
Wednesday Club
– 10 am -12 noon A club for carers and the cared for where we spend time doing things such as gardening and cleaning, and projects that we can all enjoy. Please call Jill for more information: 01440 709528 or 07883 423528
Prayer meeting
– 7 pm Call Danny for information and to request prayer 01787 462377 or 07999 920559

Call our minister


01440 730211

07983 656166
5
, Adrian Burr on
or for
weddings, funerals and baptisms, or for personal prayer, home visit or
communion
CRAFT AND COFFEE MORNING
In aid of the MS Trust who provide home nurses, support and care
COFFEE and REFRESHMENTS, CRAFTS AND GAMES
TUESDAY 14
th
AUGUST 10am - 12 noon
AT STAMBOURNE CHAPEL, CHAPEL END WAY, CO9 4NX
FRIDAY 28
th
SEPTEMBER
10 am – 3 pm At STAMBOURNE CHAPEL
RAFFLE, GAMES, Lots of CAKE!
Prizes and cakes to the Chapel via Adrian Burr, Vanessa Young, Lios Hunter or Elizabeth Tew please
SPURGEON TRAIL
FAMILY HISTORY, DETAILS OF PEOPLE WHO GAVE THIER LIVES in the FIRST WORLD WAR
SATURDAY15
th
SEPTEMBER 10 am – 4 pm
AT STAMBOURNE CHAPEL
STAMBOURNE LADIES GROUP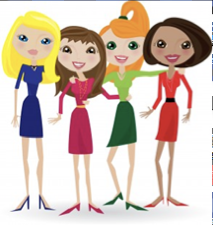 SLG
Stambourne Ladies' Group
ALL WELCOME!
Well, our June dinner at The Finchingfield Lion was a great success and we'd certainly recommend it in the future. We were so well looked after and the food was delicious. Our July meeting clashed with the World Cup and so we spread it over two evenings which proved to be a popular choice. We sat outside the Village Hall in the evening sunshine (before and after both exercise classes with Lara) enjoying Pimms, nibbles and of course chocolate biscuits.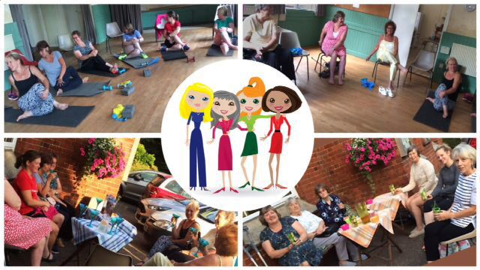 7
We're hopeful that this fabulous weather lasts for our
Village Picnic at the Pavilion on 8
th
August from 7.30 onwards
. This is open to anyone who'd like to come along and enjoy the fresh air and company. We will be supplying some food, desserts and refreshments but would appreciate you bringing a plate of food to donate to the buffet table and a tipple of your choice. Friends and family are very welcome and it should be a great evening. We'd love to see you there.
September Meeting – 12
th
. September at 7:30 pm TOPPESFIELD WINE TASTING.
Join our WhatsApp Group. Club Outings and Interest Groups – contact each other, choose from the assortment and invite others along.
Please call Annabel 01440 785809 or Vicky 01440 785528 or see our Facebook page for more!
STAMBOURNE FETE UPDATE
Thank you to all who, despite England playing in the World Cup football came along to help and support our village fete. A big thank you to Adam of Dyers End who installed televisions to ensure not a moment of the national game was missed.
Thank you to those who donated prizes and bought tickets for the raffle. Lois Hunter won the first prize of £50. On a hot sunny afternoon a total of £547 was raised.



STAMBOURNE VILLAGE HALL
ACTIVITIES

Tuesday 2:00 pm - 4:00 pm
| | | |
| --- | --- | --- |
| An afternoon of fun activities with a friendly group. Includes tea and cake. Outings during summer months. | Stambourne K9 Training | Weekly |
| | | |
| --- | --- | --- |
| For further information contact Peter 07889 121 148 | Stambourne Ladies' Group | Monthly |



Call Annabel 01440 785809 or Vicky 01440 785528

Support your Village Hall
Anybody interested in starting their own club please contact Cathy 01440 785678 or Rosi 01440 785339
VILLAGE HALL HIRE
The Village Hall is available for hire both by the residents of Stambourne and those who live outside the village. It is a good sized hall and ideal for parties, meetings, clubs, groups, family gatherings etc.
HIRE FEES
Stambourne Residents £15 for 4 hours Non-residents £25 for 4 hours
Having a party at home? Available for hire: Table £2 Plastic seat chair 50p
Please contact Rosi Horton 01440 785339 for all booking enquiries.
PARKING AT THE VILLAGE HALL
Overnight parking is not allowed at the Village Hall.
9
STAMBOURNE JUMBLE SALE UPDATE
A big thank you to everyone who donated and attended the Jumble Sale held on 9
th
. June. It was a great laugh on the day with the village people coming together. The two charities who received donations replied:
British Heart Foundation: I would like to say a huge thank you for organising an event for the British Heart Foundation recently, the 300 pounds that you raised is a truly invaluable contribution.
Essex Air Ambulance: We were delighted to receive your kind donation of
300 pounds raised during the jumble sale that was
held in Stambourne on Saturday 9th June......... a big thank you to all the helpers and organisers.
Please look out for the next Jumble Sale which will be on
November 3
rd
.
More details will be included in the next newsletter. Helpers and organisers are always welcome so if you are interested please contact Sian Davies-Hatton. Tel: 07505 355994
THE VILLAGE NEWSLETTER
The next newsletter will be October / November. Please send any contributions for this publication to
Karen Crago
at
kcrago@btinternet.com
or drop them in the post box at Tagley Farm, Finchingfield Road by Thursday 27
th
. September.
BIN COLLECTIONS AND RECYLING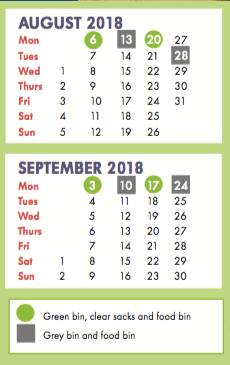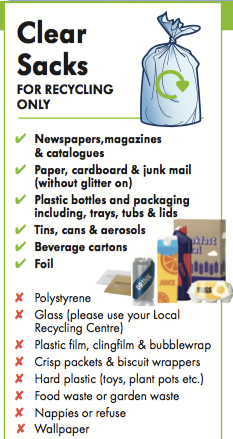 Environment, Reuse and Recycling News


What you can put in your clear sacks
Many types of soft, flexible plastics can be disposed of in your clear sacks. Try our new search directory on our website to make sure you are recycling all that you can.
Think we need to add something to the directory? Let us know by emailing
marketing@braintree.gov.uk
.
The search directory and more information can be found at:
https://www.braintree.gov.uk/homepage/20/recycling_and_refuse?utm_medium=email&utm_sourc e=govdelivery
www.braintree.gov.uk
STAMBOURNE DEFIBRILLATOR
Stambourne has a defibrillator located next to the front door of
The Chapel in Chapel End Way
. The access code is written on the right hand side of the box.
A defibrillator is a device that gives a high energy electric shock to the heart through the chest wall to someone who is in cardiac arrest.
This high energy shock is called defibrillation, and it's an essential lifesaving step in the chain of survival.
If you come across someone who has had a
cardiac arrest
, it's vital to
call 999
and
start CPR
. Then you should find out if there is a defibrillator nearby.
There are many defibrillators available in public places such as train stations, shopping centres, airport and leisure centres. These defibrillators are often known as public access defibrillators (PAD) as anyone can use them in an emergency.
You shouldn't be afraid of using a defibrillator if someone has had a cardiac arrest as the machine gives instructions to follow.
If you want to more you can watch this YouTube Video:
https://youtu.be/UFvL7wTFzl0
How to use a defibrillator (AED) - First Aid Training - St John Ambulance