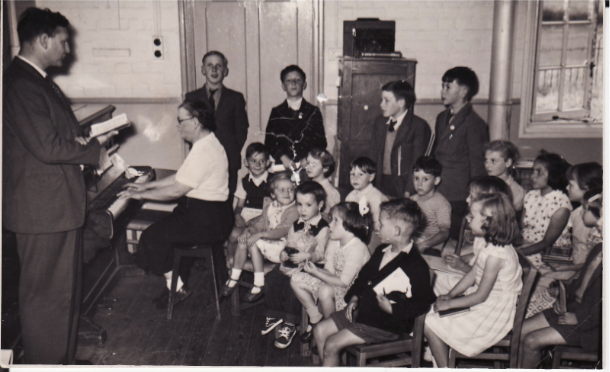 This picture, provided by Colin Argent, shows the last day at Stambourne Primary School in 1957.
Next term, all pupils were transferred to Toppesfield Primary School.
It is thought the pupils are:
Standing L to R: Mervyn Drew, Albert Ashard, Colin Argent, Roger Unwin. Then seated: Barbara Alcock, Kay Boughtwood, Lorna Writtle/Whittle, probably Ann Johnson with hair slide showing, (obscured) Graham Alcock?
Middle row seated: Trevor or Terry Boughtwood, possibly Mary? Johnson, not sure, Jonathan Peat, probably Jane Hasler, Rosemary Alcock
Front row: Elizabeth Drew, Little Timmy (an American), Jacqueline Cook, Terry or Tevor Boughtwood
Piano: Mrs Drew
Standing: Teacher (standing) John Eastwood
If anyone has any more info, please get in touch.