Digital version of the February-March 2021 Stambourne Newsletter, the bi-monthly printed newsletter published and distributed by Stambourne Parish Council – No: 260
---
STAMBOURNE PARISH COUNCIL
A Happy New Year to everyone and hope you are all keeping safe and well during this difficult time.
The first meeting of 2021 took place via Zoom on Thursday 21 January 2021 at 7.30pm. The meeting was attended by Essex County Councillor, David Finch and one member of the public.
Pavilion and Playing Field
The Pavilion has to remain closed during the pandemic but the playing field will stay open. However, this is a polite reminder that the playing field is strictly NO DOGS. Please do not walk your dogs on the playing field.
Flooding
There has been a lot of flooding in and around the village in recent weeks. Steps have been taken to clear debris from the brook near Church Road which it is hoped will improve the flow of water and lessen the flooding on the road.
The drains nearby are silted and the Parish Council have contacted Essex Highways to ask for them to be cleared.
Footpaths
Again due to the wet weather local paths are very muddy. There is also increased use whilst we all try to get out during the current lockdown.
Please follow the country code, stay on the public rights of way, keep dogs on a lead around livestock and do not feed any livestock.
We are aware of the damaged bridge on Footpath 2, Wesley End Road. This was reported to Essex County Council in the autumn and has been followed up several times. The bridge has since deteriorated and we are again pursuing this with Essex County Council.
Planning
There were 2 applications to consider:
Lapwings, Chapel End Way Application No 20/02241/HH
Greenfields, Great Yeldham Road Application No 20/02115/FUL
Speeding traffic
We have been contacted by parishioners concerned at the increase in traffic speeding through the village in recent months. Enquiries with our District Councillor and Braintree District Council have shown we can apply to the Local Highways Panel to have speed restrictions put in place. To be able to apply we need to have evidence to support the application. If you do support this please contact me in writing (email is fine), you can also include photos and videos.
Budget and Precept 2021/22
At this point of the year the Parish Council has to agree and submit its budget and precept to Braintree District Council. This forms part of your Council Tax for the next financial year. The Parish Council have agreed that the precept should not increase for 2021/22.
Dates of meetings 2021

The next Parish Council meeting will take place on 8 March 2021 at 7:30pm.

Meetings are currently virtual via Zoom. They are public so if you wish to attend please let me know and I will send you the link to join.
Full minutes and agendas are available on the village website: stambourne.com/parish-council.
Steve Platt has very kindly refreshed and updated the Stambourne website, take a look on stambourne.com.
Debbie Hilliard, Parish Clerk
debbiehilliard614@gmail.com, 01440 785 629
STAMBOURNE CONGREGATIONAL CHURCH
News from the Chapel
The Chapel has been really busy over the last few months and we are beginning to see the things happening:
Community Worker
We are employing Jill Holmes as Chapel Community Worker on a project that will continue to grow and develop the work we have been doing before, and also through this COVID period.
We support people through difficult times whether that be relationships, or medical and care needs, or through health situations. We provide advocacy support when dealing with the medical and care professions and guidance as people make life changing decisions such as accepting help from professionals to provide for their care. We befriend and offer a helping hand with everyday tasks such as shopping and prescription fetching as well as getting in cleaners and other trades to ensure the home is running smoothly.
All of this is done free of charge, although, of course donations are always welcomed to help cover costs. At the moment we have secured funding for the first phase of this work, and are in the process of requesting grants for the next stages. We have volunteers who help us in this work and if anyone is interested in helping please contact Jill Holmes on 07883 423528 or email holmesjill30@gmail.com
Building
The change to the front entrance is going through final stages of planning at the moment which should make the Chapel look more like a Chapel! But of course many of our activities have come to a halt.
However we do have recordings of songs by different musicians on the Chapel YouTube site, and linked from our Facebook page, as well as talks from a few speakers and links to regular reflections. If you would like to keep up with what we are doing please link into these sites!

Lent
Now February is the start of Lent. I don't know how lock down has been for you, but if you have found a few pounds have been added, maybe Lent is a good time to try and shed them! We are starting a "sponsored slim" with a weekly Zoom meeting "weigh in" and some encouraging chat about where we have got to and how we can continue to lose it! In combination with that we are proposing some Zoom based "Use It or Lose It" exercises to keep us moving. These can be done sitting or standing, gently or strenuously, just as you feel able! All with the aim to get us ready for when this lock down ends and we can start getting out and about again!!
These will start in the week of the 15th February and go through to the end of March. Call or email Adrian for details.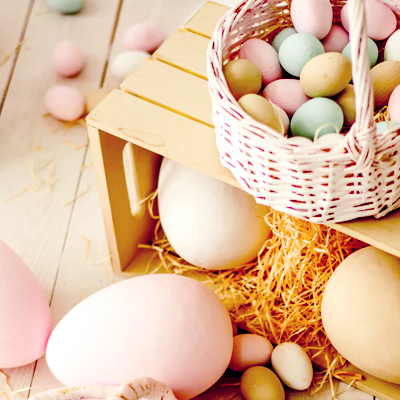 Easter
Easter happens right at the end of March, so, as we won't be in the Chapel, we will be displaying Easter Scenes in the windows and would welcome any contributions! If you take a look at the windows you will see they are quite big and so offer the opportunity to display part of the Easter story in each one (there are four!). They need to be made of translucent material so we can back light them and they will be put on the inside of the window. All welcome to take part – children to artists and anyone in between! Read the story in the Bible in the chapters of Matthew 26-18, Mark 14-16, Luke 22-14 or John 18-20. There is also the opportunity to make the front grass area into a "Easter Scene".
Plant Swap and Sale
Finally, we are still planning our virtual Plant Swap and Sale for May, so now is the time to be splitting plants, planting seeds and getting ready! It will be early May, depending on what our situation is by then, but as last year, we are planning to produce a list of what is available, and then take orders, allocate plants to everyone, and then distribute, all in a COVID secure way! It seemed to work OK last year!!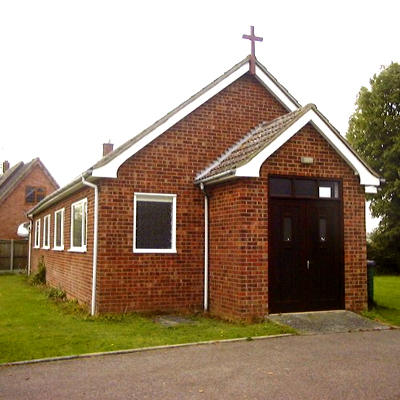 Chapel Open
The Chapel is still open Tuesday and Thursday mornings from 10 to 12 for private prayer. Please call before turning up as we need to provide individual slots for people to maintain COVID compliance.
Every blessing,
Adrian Burr, Minister

Contacts: 
Adrian Burr, Minister, aburr@inbox.com, 01440 730 211, 07983 656 166
Jill Holmes, Secretary and care worker, holmesjill30@gmail.com, 07883 423 528
Margaret Mead, Prayer request, margaretannmead@gmail.com, 01376 345 337
STAMBOURNE ACTIVITIES
Village Hall Committee
It is with sadness that we learned of the recent passing of Peter Bevan. Many of you, particularly those with dogs, with remember Peter who ran the dog club for many years. Our deepest sympathy goes to his wife Jan and family at this time.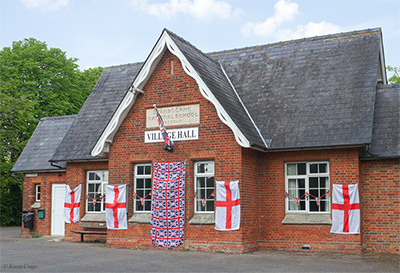 ---
Remember this?
Hopefully we'll be having a re-run of our 2018 picnic at the Pavilion this year. As soon as we're allowed and it isn't raining, we'll be getting the word out to you all.
If you're reading this and want more information talk to Vicky (07778 410376) or Lorna (07980 922636).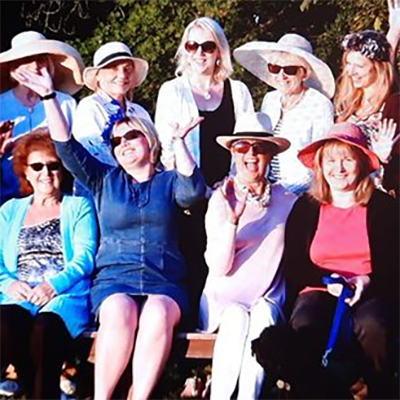 ST. PETER & ST. THOMAS BECKET PARISH CHURCH
The second lockdown ended in time for us to have a service on 6th December and 13th December and for "The Christmas Story" evening on Saturday 19th December to go ahead with an audience of nineteen. Many thanks to all those who helped, decorated the Church or took part in that lovely evening. However, with Essex being put in Tier 4 and the virus spreading fast locally it was decided to close all seven Churches in the Benefice for safety reasons for all our congregations from the following day, Sunday 20th December.
So, here we are in lockdown three. As I have said before if anyone wants a chat on the phone or needs help with anything please contact me and I will help as much as I can.
As soon as Church services can recommence they will be displayed on the Church noticeboard.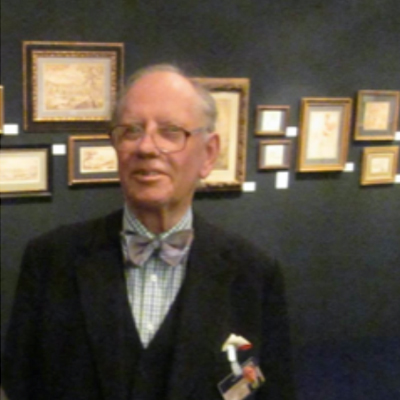 Unfortunately, we have sad news that Richard Day passed away on Saturday morning 23rd January.
Richard was a former Churchwarden of St. Peter and St. Thomas and a keen gardener and artist. You will remember the beautiful cover of the Open Gardens brochure in June 2019 and notice Richard's handiwork.
Richard was a renowned art expert and was head of Sotheby's Old Masters Drawings Department before launching his own Art Gallery in London in 1970.
He will be greatly missed by the village of Stambourne and especially the church community.
Our thoughts and prayers are with his wife Sue, and the rest of the family.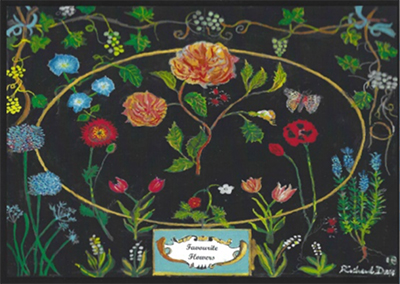 On a happier note, Rev. Liz Paxton was commissioned as Area Dean for the Deanery of Hinckford on 12th January. Several churchwardens and congregation from the seven churches joined in the service via YouTube. Congratulations Liz – it must mean more work!!!
Please all stay safe and well in this lockdown and we pray for strength to get through this difficult time once again.
Val Kerrison, Churchwarden
valeriekerrison@outlook.com
01440 785 752 or 07879 816 362
RECTOR'S RAMBLINGS
I am very aware that as we come through January, heading towards February, that many people struggle with their mental health.
We have thankfully passed the shortest day of the year and yet Spring and Summer seem a very long way off. Add a long-lasting pandemic into the mix with personal contact with others still being limited and everyone feeling worn out with warnings and health scares and statistics every time they turn on the TV and it is no wonder that people are feeling less than positive.
Many are finding it hard to even get out of bed in the morning, or are binge eating, or not taking care of themselves. It all seems so very hopeless. In fact, you are probably feeling miserable just reading this paragraph – it's all doom and gloom. BUT, please read on.
Our 'gathering' at church, whether that is in person or online, does set us apart from others. Not in an elitist way, but in the fact that we gather to worship our Creator.
You are all very welcome to join in our Zoom worship on a Wednesday morning, why not contact me for the link? Or watch on YouTube our Sunday services – just go to YouTube and look for Revd Liz Paxton.
The thing that makes the difference for Christians is that we have a hope within us that the world does not. We are aware that although we have all been allotted a specific time here on earth, that it does not end there; as our eternal home is one in the Lord's presence.
We do not, however, want to be the kind of people who are so heavenly minded that they are no earthly good (as my Mum used to say). It is up to us to help both ourselves and others in various ways to lift their heads up off their pillows and focus on Jesus.
Maybe this needs to be done in small steps and I would like to suggest a few things that might help; strategies to put in place.
Decide to read an encouraging Bible verse every morning.
Celebrate small wins by completing a task – this releases dopamine which is a natural reward chemical, even something as small as making your bed properly each day.
Give someone a genuine compliment or do something nice for them – this will bring oxytocin – the love hormone!
If you can, put your wellies on and go for a walk in the woods, (nature brings its own antioxidants) and ask God to open your eyes and ears to the small things. I noticed the aconites are out already.
Find something to watch on TV which will bring you joy – especially something that will make you laugh out loud. Share this with others. Be prepared to turn off programmes that you recognise bring your mood down.
If you can be restrained in this, eat some dark chocolate, known to release endorphins.
Above all these things, know that you are loved and held by Father God who loves you so very much.
Psalm 73 says this:
Nevertheless, I am continually with You;
You have taken hold of my right hand.
You will guide me with Your counsel,
And afterward receive me to honour and glory.
Whom have I in heaven but You?
And besides You, I desire nothing on earth.
My flesh and my heart may fail,
But God is the rock and strength of my heart and my portion forever.
Blessings,
Rev Liz Paxton, Rector
The Benefice of the Hedinghams and Upper Colne
revlizpaxton@gmail.com
07932 160 594 or 01787 277 270
ESSEX POLICE FAKE VACCINE WARNING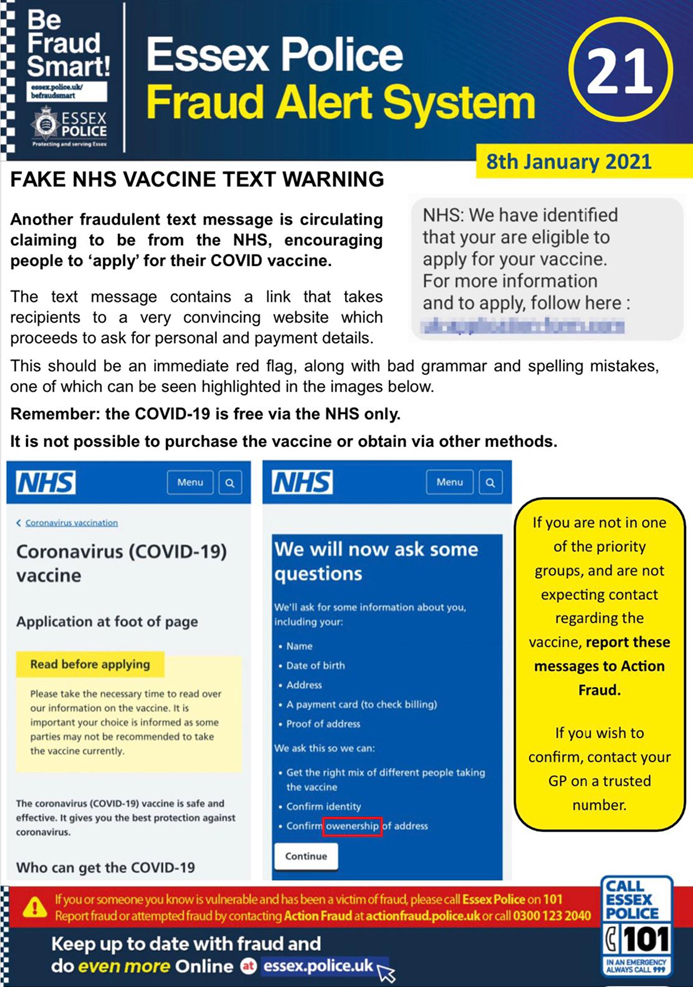 2021 Census
A census has taken place in England every ten years since 1801 (with the exception of 1941).
A census gathers information about our society so that appropriate services can be put in place for everyone to enjoy now and in the future.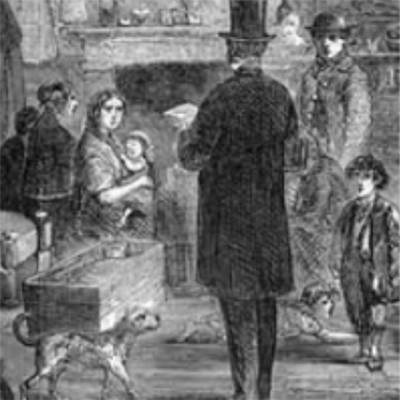 Fans of TV programmes such as "Who Do You Think You Are" will know the value of historic census data to family historians and genealogists, but data from the census impacts our lives every day, often without us even realising it.
Did you know that water companies use census data to anticipate peak water demand? Or that the NHS uses census data to plan a wide range of services such as hospitals and GP surgeries, mobile chiropodists and home support? Everything from schools to care home places are planned using census data to make sure that the needs of all age groups are met. Every aspect of our lives is impacted by the census, so it is vital that everyone participates to ensure the best possible understanding of the structure and needs of our society.
By taking part, you can make sure that your community is represented and gets its share of public and other funding to ensure the provision of services now and in the future.
The next census official census date is Sunday 21st March 2021, but Census 2021 will be the first time that everyone will be able to complete the census online at any time from the beginning of March 2021. You will receive a letter with your unique access code and will be able to complete the census online using any device.
Help will be available if you need it by phone, email or text. You will also be able to use web-chat or social media, or drop into a Covid-compliant Census Support Centre. Guidance will be available in a range of languages and accessible formats, and the paper option will still be available if needed.
The census is run by the Office for National Statistics (ONS) which operates completely independently of government and of any private sector interests.
All information submitted for the census is stored securely and anonymised. No personal data is ever sold nor is it shared with any other government department. Information from the census is only released after 100 years when your descendants may be tracing their own family history.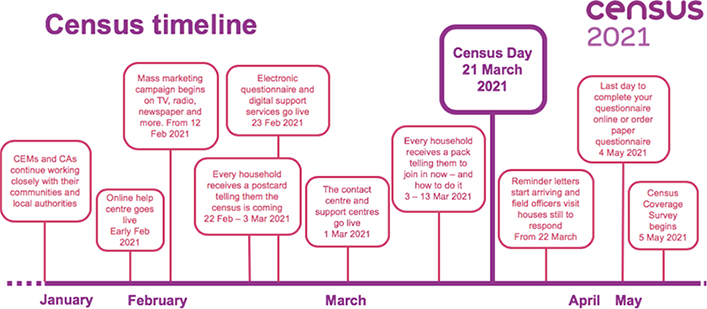 Please make sure that you support your community by participating in Census 2021.
For more information go to census.gov.uk or on social media @Census2021.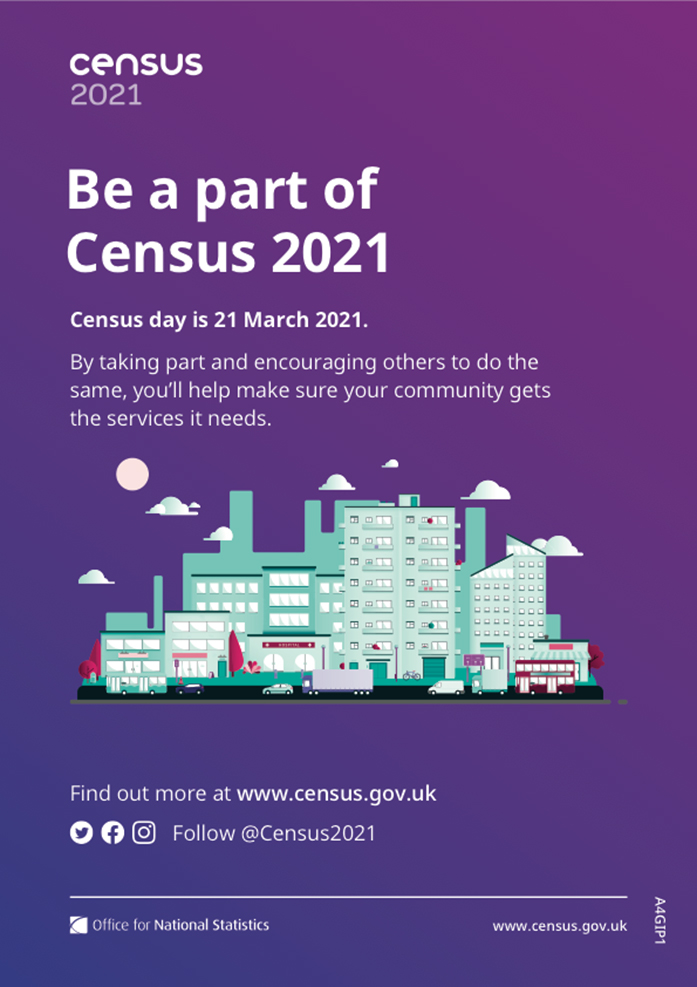 Stambourne Newsletter
Ideas and contributions for the next newsletter to Karen Crago at kcrago@btinternet.com or the post box at Tagley Farm by Thursday 25th March 2021.
Thank you.